NEWS
Jill Zarin Wants to be Pals with Bethenny Again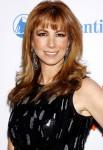 Real Housewives are everywhere during Jill Zarin's Secrets of a Jewish Mother book launch party held Tuesday at NYC's Zarin Fabrics.
Still, there's one Housewife who is sorely missed during the soiree: Bethenny Frankel.
"I don't know if she'll be here, but I did invite her," friendly and likable Jill tells me as friends and family members swarm around to congratulate her on the tome. "I invited all the Housewives. Everybody was invited."
Article continues below advertisement
Would she like to be friends with the expectant newlywed again?
"Of course I would," Jill says.
As guests including Ramona Singer, a few New Jersey Housewives and a Jerseylicious star nosh on potato latkes with smoked salmon cream and apple chutney, Kelly Bensimon explains why there's so much drama on the Housewives shows.
"'Cause it sells," she says. "It gets ratings, to be honest."
Jill introduces me to brand-new Housewives co-star Jennifer Gilbert.
"I will sell you to everybody," she tells her. "Jennifer is the newest and best addition to the Housewives."
What's the best advice Jill has given her?
"Probably be true to yourself, be yourself 110%, and advocate for yourself because in the beginning, I was very, very overwhelmed, and I would barely speak when all the girls were together," Jennifer tells me. "I am completely not a wallflower, but I was so overwhelmed by all these people because they knew each other that I would be very quiet. She said 'you've got to get in there and say your opinion.' I slowly warmed up, but she made me feel very comfortable."
Article continues below advertisement
Jill's sister, radio host Lisa Wexler, who coauthored the book along with their mom Gloria Kamen, explains the theory behind Secrets of a Jewish Mother.
"My best friend of 30 years is a missionary child, and we've talked about this," she tells me. "She says the biggest difference is that Jewish mothers leave nothing to guesswork. They say everything all the time, a thousand times. Very assertive, very telling their children to be assertive. She said in her family, she had to pick up a lot nonverbally that was said in our family."
Jill adds, "We believe there are a lot of similarities with Italian mothers. I said to Real Housewives of New Jersey star Caroline Manzo, 'if I took the book cover off and took the Yiddish out, it could be called Secrets of An Italian Mother and get away from it."
She introduces me to her daughter-in-law Jill, who is the mother of her granddaughter.
"Have you ever seen a book party with this many people?" Jill asks me. "Am I lucky! These are my friends and family. So blessed."
Ooh! Gift bag time. Parting presents include a brown eco-friendly Zarin Fabrics bag complete with a copy of the book (I can't wait to read it! It looks great.), Kymaro Body Shapers and a green Zarin Fabrics pen.
Jill's book, Secrets of a Jewish Mother, hits stores Thursday.