NEWS
Jillian Harris & Fellow Contestant David Good React to Julien Hug's Death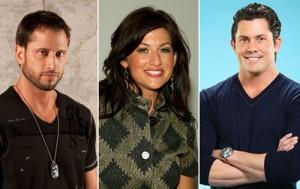 News of the tragic death of former Bachelorette contestant Julien Hug has reached his fellow contestants David Good and Jillian Harris who both tell OK! he will be missed.
OK! NEWS: BACHELORETTE CONTESTANT JULIEN HUG FOUND DEAD
Julien's body was reportedly identified by his family and friends when it was found in a remote area of Riverside County, Calif.
David recently won ABC's Bachelor Pad, but was previously a contestant during the same season of The Bachelorette as David.
Article continues below advertisement
"My thoughts and prayers go out to Julien's family," David said in a statement to OK!. "I speak on behalf of myself and the entire group from our season of The Bachelorette, that he was a great standup guy."
"Julien was always the first to offer to cook food in the house and the one to offer up one of his 'funny' jokes that were entirely too long but hilarious nonetheless," he added. "He will truly be missed."
OK! EXCLUSIVE: INSIDE ALI & ROBERTO'S NEW HOME!
And the Bachelorette Julien was competing for shared the similar sentiments to OK! when she heard the tragic news.
"I am completely heartbroken for the Hug family, and my whole heart goes out to them today as they mourn a precious life that ended far too soon," Jillian told OK!. "It's very difficult to find the words to express my condolences, but I will always remember Julien's gentle demeanor and kind heart, which will be sadly missed."