NEWS
Jillian Harris: "I Have No Rules"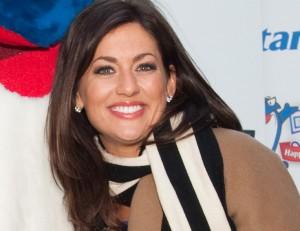 Life hasn't turned out exactly as Bachelorette Jillian Harris had planned, but she's OK with it.
The reality star got engaged on the show in 2009, and now calls ex Ed Swiderski a "good friend" after their summer 2010 breakup. While she doesn't rule out a reconciliation ("never say never"), she contends "I'm happy where we're at now."
"My life has not gone the way I had planned, but I have a better life than I ever imagined I would have," the Extreme Makeover: Home Edition star tells me during Charlie The Tuna's 50th birthday party presented by Starkist in NYC's Times Square. "Am I married yet with children? No, and I'm going to be 32. But that's OK. I am in Times Square right now! I'm a small-town girl from Northern Alberta. If somebody would've ever told me three years ago that I would be in Times Square with Charlie The Tuna celebrating his 50th birthday, I would've said 'forget it.' So you take the pros with the cons."
Article continues below advertisement
When it comes to Bachelor Brad Womack and his cast of contenders, she offers up advice.
"Take a step back and let go of those expectations. Love as hard as you can and live life as hard as you can, and life will fall into place."
Jillian's two favorites made it to the finals.
"I love Emily. I think she's a doll, and I like Chantal. I think she's approachable."
And her favorite cast-off?
"Even though everyone says Michelle is crazy, I think she's great. I think we all wait for her, and she's funny and goofy and she does things different. I like it. She's her own girl."
While being on the show is exciting, each week marks a decision. When Jillian ended her engagement, it wasn't easy.
"I realized that men and women are very, very different. Very different, and I have high expectations as every woman should have, and I'm proud that I have high expectations. But at the same time, I'm not perfect, Ed's not perfect."
What are her tips for getting through a broken engagement?
Article continues below advertisement
"One of the biggest things I struggled with is that you love somebody so much at one point in your life, and then you're supposed to just let them go? For me, it was easier for me to say 'I loved you, I loved your family, it didn't work out the way we wanted to, but let's figure out a way to remain in each other's lives.' For me, that brought me a certain level of sanity because sometimes life doesn't happen the way you want it to, and that's OK. I think as long as you have a great, positive attitude, you're going to cry and you're going to be down and then dust yourself off and get back up because life's too short to cry and meddle on it. I feel better now, in 2011, than I ever have. I feel like I'm madly in love, but I'm not. I'm not dating anybody, but I'm happy. I think I've realized a lot of things in my life again. I'm here celebrating Charlie's birthday! I have a great life."
If she could go back in time, she would be easier on herself when it came time to call it quits.
"I wish that if anything, I wasn't so hard on myself and didn't have to prove anything to myself. But if I would've done anything differently, I may have not come to this point in my life where I'm so happy and so carefree. My friends see me, and they see that I'm so happy and I'm so carefree, and I'm having such a wonderful time with my life right now. I think you have to go through some of those things in life to open your eyes."
Article continues below advertisement
In her next romance, Jillian will enjoy the process more.
"It's hard to actually make this happen, but I will try to be as laidback as possible and take the pressure off myself and that other person," she says. "I've always said 'I'm looking for my best friend,' so I continue to look for that. But I think not having any specific rules. I think having no rules, and there are so many different relationships and types of relationships out there, I think we all think it needs to be a white picket fence and we need to get married and we need to do this. But not every family is like that. There's broken families, there's gay and lesbian families, there's single families. There's all kinds of families, so whatever life hands you, you embrace it. I think that's how I will approach relationships in the future."
Here's my pic with Jillian:
Jillian teamed up with Charlie The Tuna to celebrate his 50th birthday party, where donations were collected for the American Heart Association. It's American Heart Month! Pick up the OK! on newsstands now for more about Jillian.