NEWS
Jim Carrey Cares About Tiger — Tweets His Support for Golf Pro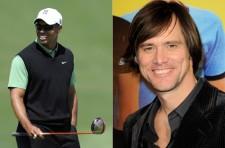 Jim Carrey not only turned to his Twitter earlier this week to announce his split from Jenny McCarthy, but he is also using his account as a platform to express his loyalty and show support for Tiger Woods. Jim hit his Twitter page today to defend Tiger, who returned to pro golf at The Masters this week, marking his first time back since his infidelity scandal broke in November of last year.
Article continues below advertisement
"Tiger Woods owes nothing 2 anyone but himself. 2 please his father he gave up his childhood and his freedom in the world. That's enough!" Jim Tweeted.
Jim also expressed his theory that Tiger's wife Elin Nordegren may have known about some of her husband's indiscretions.
"No wife is blind enough to miss that much infidelity. Elin had 2 b a willing participant on the ride 4 whatever reason. kids/lifestyle." the comedic actor wrote.
Jim announced he and Jenny were splitting via Twitter on April 6: "Jenny and I have just ended our 5yr relationship. I'm grateful 4 the many blessings we've shared and I wish her the very best! S'okay! ?"
The split seemed to be very amicable with Jenny Tweeting kindly as well.
"Im so grateful for the years Jim and I had together. I will stay committed to Jane and will always keep Jim as a leading man in my heart."
Article continues below advertisement
Amid her breakup with Jim, Jenny's rep has announced that she will be closing her school for autistic children.
"Jenny and her partner at the Academy, Sarah Scheflen, had different visions for the school and made a decision to go their separate ways. Both intend to continue on in this important mission. Sarah and Jenny really enjoyed their time working at the Academy and feel honored that they were able to provide such high quality early intervention services to so many children with autism and other developmental disabilities," Jenny's rep told HollywoodLife.com yesterday.
And oddly enough, Jim's new movie opposite Ewan McGregor I Love You Phillip Morris has been postponed indefinitely.
Does anyone else find it suspicious that all these happenings are surrounding Jim and Jenny's break-up?