NEWS
Jimmy Fallon, Family Man?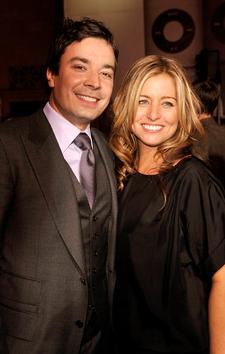 Late Night host Jimmy Fallon seems to have left his carefree bachelor days behind him, but his life with wife Nancy Juvonen is far from boring, even when they're talking soup.
"He makes the best soup you've ever had," Nancy told reporters last night at Food Bank for New York City's Can-Do Awards Dinner held at Abigail Kirsch's Pier Sixty at Chelsea Piers. "Fresh veggie puree soups – no cream – and it tastes creamy.
Article continues below advertisement
"This is my wife talking, so of course she's being very nice," joked Jimmy. "I have an immersion blender, and I just basically mush things like people at an old age home. We cook exactly the same. We just puree stuff and sip it through straws. It's like I'm eating baby food every night. She's being very nice."
Hmm, speaking of baby food, is a family on the way?
"Watch it now," Jimmy replied, teasing reporters.
But seriously, when are the two lovebirds going to start having kids?
"Soon," Nancy revealed. "It's fun. I can't wait. He's going to be the best dad. He loves kids, right?" she adds, nudging her hubby. "They'll be funny, and we have the best nieces and nephews. They have rooms in our house, and toys, and they come over anytime. It's ridiculous. We'll be ridiculous, by the way."
The two will definitely provide a loving home for their future kids, as they tease each other back and forth. Nancy admits Jimmy makes her laugh all the time.
Article continues below advertisement
"That's why I love her," Jimmy explains. "She has tons and tons of humor. I'm not that good in the looks department.
"I think we really respect each other, and we really found our right match," Nancy tells OK!. "You've gotta find your right match. You've gotta wait until you find it, and then it's fun all the time. We've been together five or six years. We stopped counting when it works. All those things just work, you know what I mean? You're happy all the time. Love isn't hard. Love is not hard."
We're officially jealous!