NEWS
Is Jimmy Fallon the Next Weird Al?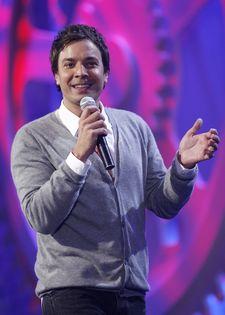 Jimmy Fallon returns to his roots during the Just For Laughs Gala held at Theatre St. Denis in Montreal.
"I'm so glad to be here," he says. "1996 was the last time I was here as a new face, and now here I am hosting a gala. I don't even believe it. I'm very honored to be here tonight."
He jokes, "My name is Jimmy Fallon, or as they say in French, George Clooney. It's great to be in Canada, or as my president calls it, Upper Montana. It's great to be in the stripper district."
Article continues below advertisement
He trots out his guitar to perform a few comedy medleys including You Spit When You Talk, an impromptu number about a woman in the audience and hippie-fantastic Car Wash For Peace.
Get this – when I bought a few tees that said "Futur Humoriste," it was two for $10, so I pick up another for the fam without reading it because I'm in a hurry. I recognize the "couche avec moi" – turns out, it says "She sleeps with me." Good thing I didn't buy more, right?