NEWS
Jimmy Fallon's Funny Gig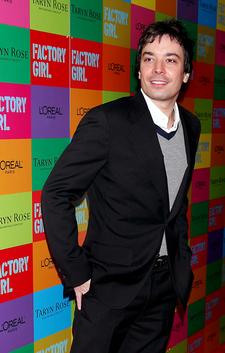 Just call him Ryan Seacrest Jr.! The tireless new Late Night host Jimmy Fallon was spotted out with his wife Nancy Juvonen, VH1's Tough Love host Steve Ward and his girlfriend Meagan at Gypsy Bar at the Borgata Hotel and Casino in Atlantic City after Jimmy's stand up show at the Music Box on April 11.
While his new full-time gig on NBC may keep the comedian busy, that didn't stop him from staying out till 3 a.m., as he chatted with fans, drank Heineken and rocked out to a live cover band.
Article continues below advertisement
Jimmy, who made jokes about being married in his standup routine saying, "I got married about a year ago. I'm trying to get out of it. It's a lot of legal stuff, a lot of paper work," seemed happier than ever, making sure to introduce Nancy to any fan that came up to him for a picture.
Just before midnight, Jimmy ran into Samantha Ronson, who was on her way to DJ at club mur.mur on the other side of the Borgata. Soon after running into Sam, Jimmy took to his Twitter to express his admiration for Lindsay Lohan's recent ex writing, "She (is) still the hardest working person—biggest heart."
The Late Night host, who drove up from NYC, says the gig he's had for a month and a half has its awkward moments. "It's been really fun, I'm having a good time," Jimmy told the audience. "It's tricky talking to people and having to cut to commercial. It's not like something you have to do in your real life. You don't go to a party and go, 'Excuse me Gary – we'll be right back with Gary's story.' It's just an odd moment."
Jimmy also did a few Saturday Night Live routines, played guitar and sang parodies of Katy Perry, Amy Winehouse, Maroon 5, Snoop Dogg and others. He received a standing ovation from the crowd.