NEWS
Jimmy Kimmel To Bring 'Eclipse' Celebration to Primetime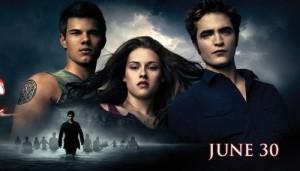 First Oprah Winfrey — now Jimmy Kimmel! The Twilight Saga: Eclipse cast will be doing a full prime time special on Jimmy Kimmel Live dedicated to the June 30 release of the third installment of everyone's favorite vampire romance! And guess who will be on the show?
The beloved trio of Robert Pattinson, Kristen Stewart and Taylor Lautner, of course.
Article continues below advertisement
The special entitled, "Jimmy Kimmel Live: Twilight Saga: Total Eclipse of the Heart," will air from 10:01-11:00 p.m. on Wednesday, June 23, on ABC, according to HitFix.
This will be the only joint prime time appearance by the Twilight trio. Co-stars Dakota Fanning, Bryce Dallas Howard and Xavier Samuel will also be on the show plus other "special guests."