NEWS
Jimmy Kimmel Mocks the Oscars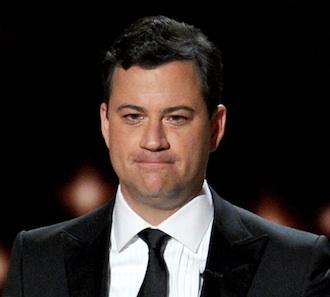 In addition to the glitz and glam of the Oscars, there were also many moments to mock! Taking no prisoners and not having any shortage of material, late night host Jimmy Kimmel had a field day on his post-Oscars special after the ceremony ended.
OK! GALLERY: GWYNETH PALTROW WEARS A CAPE ON OSCARS RED CARPET!
For starters, he poked fun at Kim Kardashian. According to Zap2it, he quipped, "The Artist won Best Motion Picture. Pretty good for a movie that's black and white and silent. Which is just the way Kim Kardashian likes her men."
Article continues below advertisement
Jimmy also took jabs at the former governor of California. "Octavia Spencer won for the movie The Help, which was one of the only few nominated films this year that were a hit with critics and at the box office. The Help was so popular, Arnold Schwarzenegger tried to get it pregnant."
OK! GALLERY: OSCAR-NOMINATED STARS ARRIVE AT 2012 ACADEMY AWARDS RED CARPET!
Although Jimmy did indeed interview Oprah Winfrey during his show last night, most of the buzz surrounded zingers like this one: "You know, originally Eddie Murphy was supposed to host the show until the Academy remembered he was in Norbit."