NEWS
Jimmy Kimmel at Your Service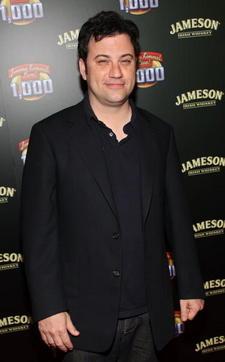 Attention Hollywood party girls: Jimmy Kimmel wants to be your driver! After enjoying success with his late-night chat show, Jimmy Kimmel Live — which just marked its 1,000th episode — the funnyman tells OK! he plans to help Tinseltown's starlets escape DUI charges by getting them home himself.
"I'm semi-interested in the goings-on of some of these young girls who are out at clubs every night," Jimmy tells OK! at Hollywood Roosevelt Hotel's Tropicana Bar bash celebrating his show's milestone. "I just don't understand why they drive. I don't know why they don't get drivers. I can't imagine being in that same position and not just getting a ride. I'm going to start a chauffeur business for drunken young harlots. We'll call it DYH."
Article continues below advertisement
But before taking up his driving duties, the 40-year-old is going to relish every single second of his show's landmark achievement. In honor of the 1,000th show, Jimmy was presented a certificate by L.A. City Council President Eric Garcetti.
"I got an actual proclamation from the mayor — just like in the Wizard of Oz," Jimmy said.
So just what is the recipe for his success? "I've always been a very hard worker, and that is the most important thing, I think," he explained to OK!, before jokingly adding, "I also made a pact with the devil, many years ago, when I was 13 years old. I won't say I sold him my soul, but I promised him my soul. And he's been very, very good to me."
Someone who hasn't, though, has been his longtime girlfriend, Sarah Silverman, who famously "confessed" to her beau that she was "f***ing Matt Damon." Jimmy responded with a star-studded video of his own featuring his affair with Ben Affleck. But it seems like Sarah and Matt are having the last laugh for now — the two took out a full-page ad in Variety congratulating Jimmy on his 1,000th ep and flaunting their "relationship" at the same time.
So what was Jimmy's reaction?
"He thought it was hilarious," Sarah tells OK!.
By Ryan Smith