NEWS
J.Lo goes home to the Bronx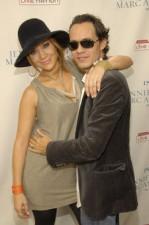 Jennifer Lopez and Marc Anthony seem to be a living, breathing parade float walking through the halls of P.S. 36 in the Bronx before a press conference to kick off their tour, which begins in Atlantic City, N.J., tonight.
Her first outing is hosted by ING's Run For Something Better campaign, which supports school running programs.
Seated children line the hallways, and the power couple greets every one of them with handshakes. Colorful artwork reading "Welcome To P.S. 36 Jennifer Lopez and Marc Anthony" fills the hallways. Marc especially gets a kick out of the drawings – his lovely wife towers over him in every picture!
Article continues below advertisement
In the auditorium, the kids shriek, cheer "J.Lo" and wave orange pom-poms before she arrives.
"Wait like good citizens for our favorite people," principal Nilda Rivera, who was on duty when Marc was in school, says. "I want you to remember this day for the rest of your lives."
Voila! Jennifer, who is wearing a flowing gray dress to cover what could be a baby bump, and Marc step through the side door. A choir sandwiches the duo onstage, and performs a tune complete with hand motions and dance moves. Look at all the kids who can now say they danced/sang with Jennifer Lopez! J.Lo bobs her head and dances to their ditty, but by the time they're finished, she's sobbing, her voice is cracking and she's wiping away tears.
"We're overwhelmed," Jennifer, 38, says. "We look at you and we see ourselves. I remember thinking it was so cool being onstage and dreaming of great things, and seeing you so full of beauty and life and energy, and knowing how far you can go, still touches my heart. Marc feels the same way."
Onto the tour – "I want to sing Jenny From The Block," Marc, 39, cracks. "What Jennifer was able to do for me on the moviefront in El Cantante, now it's my turn. I've been touring for years, and it's just a blessing. We're so excited."
Article continues below advertisement
Jenny is thrilled to return to "the block." She grew up on nearby Blackrock Avenue.
"To feel all the love and the warm reception, I know this is where my core is," Jennifer says. "This is where my stability was built. Everything I worked to accomplish – all the ups and downs, all the highs and whatever that is – I got through it because this is where I came from. I came from here. Coming back here and being given all the love is more than words. It's overwhelming, emotional and beautiful."
Catch Jen and Marc performing their English and Spanish hits in your town. Their 20-city tour wraps in Orlando November 4.