NEWS
Jo Dee Messina's Culture Vulture Outtakes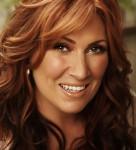 Country singer Jo Dee Messina takes OK!'s Culture Vulture interview in the issue out now.
The married mom, 40, whose album Unmistakable Love is out Tuesday, reveals her pop culture picks.
Here's what you won't find in the magazine.
Favorite TV show?
Grey's Anatomy. Loved the plot, the characters, the writing, ever since the very first episode. I have every single episode. It's all on my DVR. It's very hard for me to part with episodes when I run out of space on my DVR, but I do have to part episodes from three years back when I run out of space.
Article continues below advertisement
Favorite concert?
My favorite concert – you're gonna laugh – the Rush Signals concert because my mother made my brother take me when we were kids, and then Rush came back through Nashville three years ago, and I took my brother. I had connections, so we got really great seats. It was a full circle thing.
Favorite springtime activity?
Just being outside. Most of the time I'd say it's because my husband's grilling out. He'll have that grill going all day, every day because it's great to be outside and it's the perfect time of year to be outside in Nashville because it's not too hot, not too cold, and you can hang out and soak it all in.
Favorite snack?
It varies. Right now it's graham crackers because I have a one year-old that I give graham crackers to, and they happen to be lying around the house. I'll grab one here and there. That's my big sin. That's the worst thing I eat right now. I know it's not chocolate, it's not brownies, it's not doughnuts -- I'll have a graham cracker. I eat pretty clean.
Favorite nightspot?
I go to these writers' nights around town at little hole in the wall places, so probably Third and Lindsley. It's a club here in Nashville where they have a lot of showcases for writers – and they have good ones.
MORE ON:
Red Carpet Confidential
Article continues below advertisement
Favorite vacation spot?
Colorado. I love Colorado. Me and my husband are outdoors people. We love to fly-fish, we love to be outside, and there's no place more beautiful than Colorado for us. I love it. I called a friend of mine the day after Christmas that was up there, and I was like emotional 'please tell me what it's like up there right now.' That's because I wanted my white Christmas so bad. cackles I might be there for the holidays next year.
Here's my pic with Jo Dee:
Pick up the OK! on newsstands now for the rest of Jennifer's Last Word interview. The cover line is Brad and Angelina/"Wedding For The Kids."