NEWS
Joan Rivers Gives Back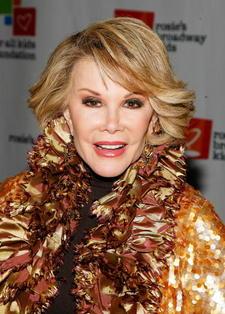 For a woman who spends a great deal of time attending the glitziest parties and is always decked out to the nines while harshly critiquing other celebs on the red carpet, it was refreshing to meet up with Joan Rivers in a less glitzy setting.
At Rosie O'Donnell's gala to celebrate the 10th anniversary of Rosie's for All Kids Foundation, Joan shared with OK! her Thanksgiving plans which involved taking her 6-year-old grandson, Edgar, along as she delivered meals to those who couldn't come out to get the best holiday meal ever. She says, "He sees that not everybody has a swimming pool and tennis court."
Article continues below advertisement
As for where their family enjoyed Thanksgiving, Joan had the clan at her house. She laughs, "I become the matriarch." One new tradition she would like to instill for the holidays may have daughter Melissa cringing. "It's to give mother more gifts!" Oh Joan, the holidays are about giving, not receiving, but we like your thinking!
By Alisandra Puliti