NEWS
Joan Rivers Says She "Wouldn't Put a Bomb in a Chanel Bag"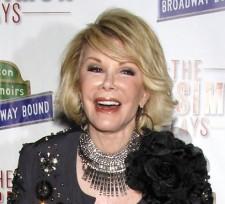 Joan Rivers was first enraged when she was detained in a Costa Rican airport over the holidays, but now she's ready to crack jokes about it! "What happened was I got a lady who was pre-menstrual," the comedienne told Access Hollywood. "I got a lady who didn't want to know that they had made a mistake. Didn't understand the passport. That it was an, 'also-known-as.'"
Even Joan was no competition against airport security when she was detained before boarding her flight to Newark because her passport did not meet her name.
Article continues below advertisement
"Look at me," Joan told Access Hollywood. "I am 76 years old, traveling alone and a woman standing there saying, 'I only have a hundred dollars what do I do?' And no one said, 'Let us help you, let us take care of you.'"
The problem was Joan's passport listed her as Joan Rosenberg, AKA Joan Rivers, and her boarding pass said "John or Joseph instead of Joan." She admits she didn't look at the boarding pass.
The employee handling the situation gave Joan's seat away.
"Then I ran out into the tarmac," Joan explained. "I thought maybe the pilot will recognize me and I was waving my arms in front of this big supersonic. No, they got the police to come after me. And then I ran back in because I didn't want to end up in a jail."
Her solution? Travel using different airport.
"I took a six-and-a-half hour drive across Costa Rica to go to the San Jose Airport and then I stayed overnight and it was OK," Joan said.
Article continues below advertisement
The next day didn't create problems for her traveling.
"I'm Jewish. What am I going to have?" she joked. "If I have anything strapped to my waist, it's a bagel. And I'm an American woman. We're not going to put a bomb in a Chanel bag and have it blow up because what if the bomb doesn't blow up and you've ruined a bag. We're not going to do this. Priorities!"
And Joan has another suggestion for airport security.
"See, now they have the watch list," she explained. "I think they should also have a 'Don't Bother To Watch' list and the number one person on that would be Rue McClanahan. Let her through. It's Rue McClanahan? Just let her through."