NEWS
Joan Rivers "Very Upset" Over Regis Philbin "Quitting"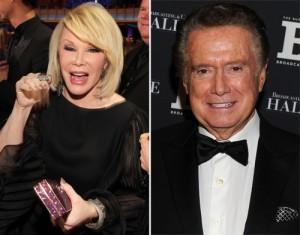 From one veteran TV personality to another, Joan Rivers offered her take on the big news this week — Regis Philbin saying goodbye to his co-hosting role on morning TV.
"I'm very upset that he's quitting," Joan said of Regis, who announced Tuesday that he will be leaving his daytime talk show hosting duties after 25 years on TV.
"He's the one who started the morning chat," she told the New York Post. "Everyone has a morning chat now. But Regis was the first one to open the paper and do it. He changed what a daytime show looked like."
Article continues below advertisement
Joan also suggested Regis may be calling it quits too early at 70. "He should look at Betty White!" she said. "She could have been a cougar with him!"
Regis' close friend Donald Trump has a different assessment on the situation.
"There's something very cool about what he's doing," Donald, who has a role on primetime TV, told the NYP. "It's called leaving on top."
Regis' former co-host Kathie Lee Gifford also voiced her opinion on her pal's decision to say goodbye.
"He's going to have a landmark birthday in August, It's a new beginning for him… I don't think Reg will ever retire," she explained to Access Hollywood earlier this week. "He loves what he does so much. But he can work in a lot of different ways and he can do it on his own schedule."
OK! NEWS: REGIS PHILBIN REPLACEMENT TO BE RYAN SEACREST?
So who will replace the icon? Rumors have run rampant ranging from Sam Champion of Good Morning America to Survivor host Jeff Probst to 20/20 co-anchor Chris Cuomo and Ryan Seacrest.
Also in the running according to the Post are Kelly Ripa's former All My Children co-stars Josh Duhamel and Cameron Mathison.