NEWS
Is Joaquin Faking a Meltdown?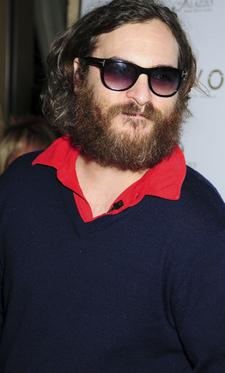 Those in the audience on the night Joaquin Phoenix debuted his shuffling, incoherent rap act, which culminated in the recently retired actor falling off the stage, might not be surprised to hear that the Walk the Line star is just trying to pull a fast one on Hollywood.
Sources tell Entertainment Weekly that Joaquin, who announced in October that he was not going to act anymore, is playing us all. "He said, 'It's a put-on. I'm going to pretend to have a meltdown and change careers, and Casey is going to film it,'" says one source close to the actor.
Article continues below advertisement
Casey Affleck, Joaquin's brother-in-law and pal, has been with the bearded wonder during most of his public shows of wackiness, filming it all for a supposed documentary about Joaquin's career transition.
"It's an art project for him," a source tells EW of Joaquin. "He's going full out. He probably has told his reps that he's quit acting. Joaquin is very smart. This is very conscious. He has a huge degree of control."