NEWS
Is Joaquin Walking the Insanity Line?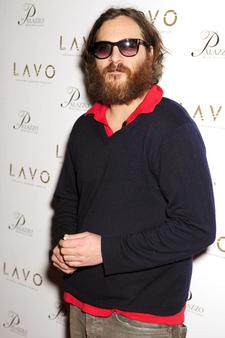 Joaquin Phoenix has displayed some odd behavior lately--but is it bordering on mentally ill?
According to a Chicago-based psychiatrist who has not treated the star, the answer is yes.
According to E! News, Dr. Paul Dobransky has never met the allegedly retired actor, but he tells the L.A. Times that Phoenix has displayed "socially inappropriate behavior" during his recent bizarre public appearances, including his now infamous stint on David Letterman.
Article continues below advertisement
"There is something wrong," Dobransky says. "And it's beyond drug use."
Now Phoenix's rep is lashing out with fighting words. "How absolutely inappropriate for a doctor who has no personal interaction or relationship with someone to diagnose them," publicist Susan Patricola says. "Hope they spelled his name right! Another 15-minute expert is born! Astonishingly inappropriate!"
Dobransky is a noted pop psychologist and author of such books as The Power of Female Friendship and The Secret Psychology of How We Fall In Love.
He defended Phoenix to the L.A. Times, admitting that he found Ben Stiller's parody of the actor at the Oscars undeserving. "I was pretty offended by that skit at the Oscars," Dobransky said. "It struck me as potentially beating down on the mentally ill. The jury is not exactly in on what is happening. "Whatever it is, it's not funny—whether it's drug abuse, mental illness coming on or the clumsiest attempt ever at a career change."
Of course, Dobransky fails to acknowledge the whole thing may be a put on. Phoenix's purported career change, from Oscar-nominated actor to awful hip-hopster, is being chronicled by a camera crew helmed by brother-in-law Casey Affleck for what many consider a Borat-style production.