NEWS
Joe Francis on How Ashley Dupre Went "Wild"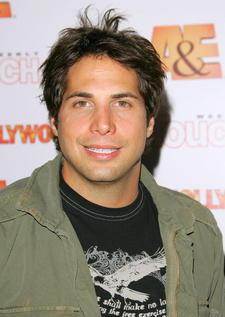 As the world awaits the release of Girls Gone Wild DVDs featuring call girl Ashley Alexandra Dupre, Joe Francis reveals all the scandalous (and not-so scandalous) details of the aspiring singer's week in Miami when she got down and dirty for his cameras.
"She seemed like any other spring breaker who was having a good time," Joe tells Extra. "She drove down from North Carolina…We took her in on the Girls Gone Wild bus."
Article continues below advertisement
What transpired then was "very innocent… nothing pornographic." Claiming to have more than seven hours of archived footage from that 2003 trip, Joe says Ashley is captured doing a variety of different Girls Gone Wild activities, from man on the street to modeling nude.
"It's done very well," he says. "It's really good stuff. I think she looked her best."
The 34-year-old, who just served time for tax evasion, had originally offered a million dollar deal with Ashley to appear in GGW when the Eliot Spitzer scandal broke, only to learn that he already had copy of the 22-year-old in action.
"Her attorneys were demanding more money, so I said, 'Has anybody checked to see if we had shot her'… We had!" he says.
Since then, Ashley's attorneys have fought with Joe over the release of the footage as Ashley was under 18 at the time of filming. However, laws in Florida allow women under 18 to be filmed and Ashley flashed a very convincing fake ID to GGW producers.
"She shows an ID that she's 21 and uses a fake name and signs a release and gives permission and actually says that she wants to be on Girls Gone Wild… our normal release process," Joe says. "She was around so long that the camera man kept in touch…as little as six months ago Ashley and our camera man were in contact."
Article continues below advertisement
That can't be said anymore as Joe shares Ashley and her legal team have been MIA in recent weeks.
"She really has kind of vanished and it just makes me wonder if she's getting paid off or taken care of by Spitzer's friends, which is really what I'm inclined to think after getting certain e-mails and correspondences."
Joe plans to offer two free DVDs with the premiere Girls Gone Wild magazine issue, out April 22, including Ashley's Hooker Gone Wild.
For more on Joe, tune in to Extra tonight!