NEWS
Joe Manganiello Talks "Stripper Bootcamp" for 'Magic Mike' With Kathie Lee and Hoda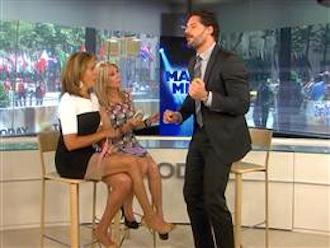 Kathie Lee Gifford and Hoda Kotb got a thrilling start to their Tuesday when hunky Joe Manganiello sauntered on The Today Show stage and proceeded to give them a few moves from his upcoming stripper flick, Magic Mike.
OK! NEWS: NEW COUPLE ALERT? ARE JOE MANGIANELLO AND DEMI MOORE DATING?
Unless you've been living under a rock, you've definitely heard about the parade of beefcake hitting theaters this Friday, starring Channing Tatum, Joe, Matt Bomer and Matthew McConaughey as Tampa, Fla., strippers shaking it for a few dollar bills.
Article continues below advertisement
While you may recognize Joe as hot, buff werewolf Alcide in True Blood, you'll have to get used to him as hot, buff stripper Big Dick Richie this weekend.
"What is there not to like about this movie?" he answered when Kathie Lee asked why he signed on. "It's such a great group of guys and it's really fun, but aside from that you're basically having 200 female extras scream, claw and grab and body cavity search."
OK! NEWS: MATTHEW MCCONAUGHEY, CHANNING TATUM AND JOE MANGIANELLO STRIP DOWN IN MAGIC MIKE
While Joe stays fit all-year long because he's on the "naked werewolf show," he and the guys set aside their nicest thongs and hit up what he called "Stripper Bootcamp."
"I had ballet and jazz in drama school but male stripping is really grimy," he said. "We make money and grind on women."
Check out a taste of Joe's sexy moves with some lucky Today Show staffers below.