NEWS
Joel McHale Gets His Comeuppance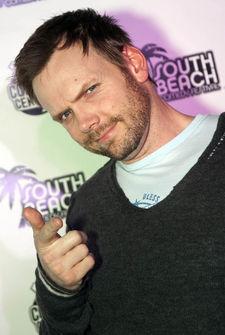 You can't expect to be mean to rich and powerful celebs and not suffer any consequences -- as Joel McHale has found out.
The comic who makes a business of lampooning our favorite pop culture icons on The Soup regaled his audience at a stand-up show with tales of his run ins with his victims.
He told the crowd at the Music Box Theater at the Borgata resort in Atlantic City of the time he came face-to-face with Kris Kardashian in angry momma-bear mode at a photo shoot.
Article continues below advertisement
Apart from the awkwardness of having to talk to someone who you have referred to on national television many times as "dead behind the eyes" and whose daughters you have branded "a gang of Armenian gypsies", Joel said he was given a major ticking off for constantly referring to Kim Kardashian's sex tape.
Apparently she was not impressed by McHale's protests that trying to talk about Kim without talking about the tape that made her a star is like trying to interview Neil Armstrong without mentioning the moonlanding.
But he made his most fierce enemy (in more ways than one) when he compared Tyra Banks to a stripper.
When the former model said that "appearing in public without any clothes on" was too awful to contemplate, Joel and his mischievous crew showed video of her wearing nothing but Victoria's Secret underwear on the catwalk in front of a packed audience.
"And that's when the lawyers letters started arriving," said Joel.
After the show, Joel couldn't resist gambling a few dollars on a slot machine named Kitty Glitter -- in honor of The Soup fans' favorite kitty, Spaghetti Cat.