NEWS
Joel on Nicole: "She's Got a Little Crazy Streak in Her...It's Sexy"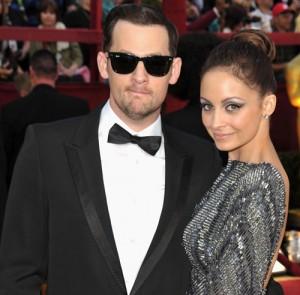 Joel Madden has the utmost respect for long-time girlfriend Nicole Richie. The Good Charlotte front man is a huge fan of Nicole's acting chops on NBC's Chuck and opened up to Access Hollywood about Nicole's role and the family's new feline.
"I loved her on the last one – I went by and saw her when she was filming that and it looked really cool," Joel told Access Hollywood of Nicole's work in the NBC comedy. "She gets to do all these fight scenes and shoot guns, and she really likes it."
Article continues below advertisement
Nicole's role as a fiery CIA operative involves some heavy-duty weapons, but Joel knows his leading lady is capable of handling the machinery safely.
"I don't worry – she's got a little crazy streak in her," he laughed. "She'll be fine… It's sexy."
OK! VIDEO: HARLOW HELPS HER DAD JOEL SELL HIS OWN SINGLE
The happy couple — who are parents to daughter Harlow and son Sparrow — recently announced a new addition to the family, an adopted kitty name Tabitha Jones Madden!
Nicole shared the happy news on her blog, writing, "I couldn't resist. I fed her, and she was as happy as Benji Madden in a sorority house."
"It's funny that she posted that on the Internet," Joel said. "I was like, 'Great. The cat is here to stay,' because if it's not, I look like a jerk that got rid of the poor cat."
Despite Joel's dislike for felines, Tabitha will not be leaving.
"The cat stares me down everyday," he said. "When I was leaving to come here the thing stares and hisses at me, and I'm like, 'I didn't even say anything to you!' "
Nicole's latest Chuck episode is slated to air in October. Good Charlotte's highly-anticipated new album, "Cardiology," hits stores on October 26!