NEWS
Joey Fatone: "Fatherhood has made me more of a kid"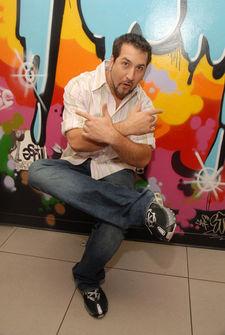 With his almost unnatural Superman obsession (not to mention, overflowing Clark Kent collection), vivacious personality, and wild sense of humor, you don't have to be an 'N Sync fan to see that is a kid at heart. And fatherhood has only made him indulge in his inner child more, the 30-year-old tells OK!.
"It has made me more of a kid, I would say," Joey, dad to daughter Briahna, 6, admits. "I am like such a kid. I like going to Disney with my daughter and stuff and having fun and going to play and it is just hysterical. My wife always tells me she has two kids instead of just one."
Article continues below advertisement
Joey's wife, , may have her hands full with her two "children," but she's definitely used to Joey's silliness by now. The two are high-school sweethearts and the Dancing with the Stars runner-up says they've always fit together.
"When she was younger she is the same now in a sense," he says. "She was always very structured, she is like the, not the serious one, but just more structure and I am just more loosely out of my mind. So we complement each other. Opposites attract."
Joey and Kelly marked their third wedding anniversary on Sept. 9, but it wasn't a whole to-do. A "Blue Man Group" show or movie was planned, followed by a nice quiet night at home.
Home life is certainly agreeing with Joey. After years of sell-out global tours, the Singing Bee host, who will co-host the Emmy Red Carpet Pre-Show with fellow DwtS alum on Sunday, is enjoying domesticated bliss and everyday parental rituals, such as dropping off "crazy" Briahna at her first day of school, with her brand spankin' new lunchbox and Bratz backpack.
Article continues below advertisement
"That is almost in my written hand book or my contract," Joey reveals. "I have to have Halloween off to take her trick-or-treating and I have to be around obviously for the first day of school. There is no way I would miss it."
As for expanding the Fatone household, there are currently no immediate plans.
"It's a possibility. I mean we're not really planning it at this moment, but if it happens it happens."
By Joyce Eng
Interview by Derek Ivie