NEWS
Joey Fatone is One of the Fellas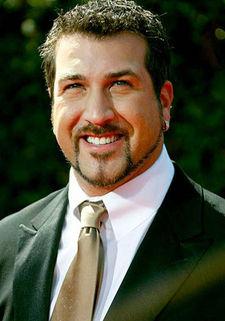 You heard it here first — Joey Fatone's got a brand-new band!
Yes, the former 'N Syncer is regrouping, this time with some other guys who know a few moves or two.
"I've been working on a project with Drew Lachey, Joey Lawrence and Joey McIntyre doing like old school tunes," Joey reveals to OK!. "It's kind of like a Rat Pack thing. We're calling it The Fellas."
The four, of course, are all alums of Dancing With the Stars and each has pop music experience in their lengthy resumes. Joey F.'s is by far the most recognizable with his seven-year-long stint in 'N Sync. It's been six years since the band's last album and three years since their last performance, so will they ever reunite?
Article continues below advertisement
"You never know," the 30-year-old says. "It's all about timing, about finding the time to say, can we do it? Is it possible? Is it feasible to do it with everybody time-wise? Everybody's doing their own thing now, you got J.C. Chasez with his own album out, Justin Timberlake touring, Lance Bass doing Hairspray on Broadway and Chris Kirkpatrick doing the VH1 Man Band show so it's really finding the time to say, can we do it? Is it possible?"
Since everyone's booked in the immediate future, "Maybe one day, it's like, 'Hey, I'm free in the year 2010. Let's do it!' You never know."
For now, Joey is keeping busy hosting The Singing Bee on NBC. And don't think he doesn't bring the office home with him. The notorious goofball loves watching the episodes at home and critiquing himself.