NEWS
John Galliano Video: Watch Anti-Semitic Rant That Led to Designer's Dismissal from Dior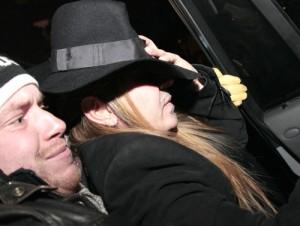 John Galliano has been officially fired from Dior after his anti-Semitic, booze-filled rant against a woman at a Parisian cafe was caught on tape. The startling video has been released, prompting his dismissal from the fashion house, a decision the fashion community seems to be on board with.
Christian Dior announced this afternoon that Galliano has been fired from the company, effective immediately.
Article continues below advertisement
"I condemn most firmly the statements made by John Galliano which are a total contradiction with the essential values that have always been defended by the House of Christian Dior," Sidney Toledano, Dior's president and CEO, said in a statement via New York Magazine.
It is reported that as of now, Dior will continue with its runway show in Paris this Friday.
In the clip below, Galliano tells patrons at a Paris bar, "people like you would be dead" and that "your mothers, your forefathers" would all be "gassed."
He also said, "I love Hitler."
The repulsive clip has led Oscar-winner Natalie Portman, the face of Dior's Miss Cherie perfume, to disassociate herself from the designer.
"I am deeply shocked and disgusted by the video of John Galliano's comments that surfaced today," Natalie said in a statement Monday evening (via The New York Times). "In light of this video, and as an individual who is proud to be Jewish, I will not be associated with Mr. Galliano in any way."