NEWS
John Galliano's Testimony: "I Have a Triple Addiction"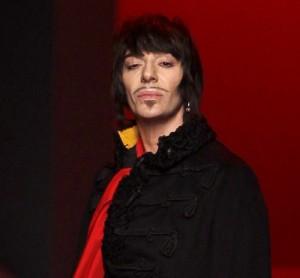 Former Dior designer John Galliano testified in court today, marking the start of his trial over alleged anti-Semitic remarks he directed at patrons while dining at a Paris cafe in February. John testified that he remembers nothing about using anti-Semitic slurs because he suffers from a "triple addiction" to alcohol, barbiturates and sleeping pills.
Galliano repeatedly said he remembered nothing from that night, the Associated Press reports, via ABC News.
Article continues below advertisement
"I have a triple addiction. I'm a recovering alcoholic and a recovering addict," he said when asked why he can't recall the incident.
He said he began drinking in 2007 and became addicted to alcohol, barbiturates and sleeping pills.
"After every creative high, I would crash and the alcohol helped me…helped make Dior a billion-dollar business," he said on the stand.
This is the first time Galliano has mentioned his addictions.
"I was in denial," the 53-year-old British designer replied when asked why he didn't tell investigators about his additions. "I was still taking those pills and alcohol, and I was in complete denial."
He was charged with "public insults based on the origin, religious affiliation, race or ethnicity" against three people, after the Feb. 24, 2011 incident.
Article continues below advertisement
A clip was leaked on the Internet, showing an inebriated Galliano telling patrons at the Paris bar, "people like you would be dead" and that "your mothers, your forefathers" would all be "gassed," going as far as saying "I love Hitler."
When he was taken into custody for questioning, a sobriety test did show he was drunk.
His dismissal from Dior, the fashion house he called home since 1997, came during Paris Fashion Week, and his remarks shocked the fashion world and ultimately cost him his job at the renowned French high-fashion house.
If convicted, Galliano could face up to six months in prison and be required to pay $32,175, as French law prohibits public insults toward others because of their origins, race or religion.
The couple who alleges Galliano made anti-Semitic comments to them in the cafe as well as another woman who then came forward with similar claims regarding another incident in the same cafe in October were both present at today's trial.
Geraldine Bloch, one member of the couple who was targeted with insults from the designer, told the court that Galliano said the word "Jewish" ''at least 30 times" in the approximately 45-minute-long rant.
"I don't know if he was drunk but he was behaving completely strangely," she commented.
The start of Galliano's trial marks the start of a new round of Paris Fashion shows, the menswear spring-summer 2012 collection.