NEWS
John Mayer Admits He's Not Over Jen, Masturbates a Lot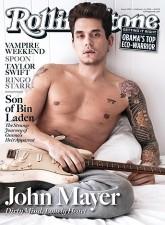 Whatever you might think of John Mayer's music, you've got to admire the man's honesty. In a new interview with Rolling Stone, the singer/songwriter/lover-of-famous-women goes shirtless on the cover, but bares even more — probably too much — about everything from his love life to his self-pleasure habits to his favorite album.
On his headline-making relationship, and subsequent split, with Jennifer Aniston, John confesses to Rolling Stone, "I've never really gotten over it. It was one of the worst times of my life."
Article continues below advertisement
He adds, "I have this weird feeling, a pride thing, for the people I've had relationships with. What would I be saying to Jen, who I think is f**ing fantastic, if I said to her, 'I don't dislike you. In fact, I like you extremely well. But I have to back out of this because it doesn't arc over the horizon. This is not where I see myself for the rest of my life, this is not my ideal destiny."
Continuing on this not-exactly-romantic path, John admits, "All I want to do now is f**k the girls I've already f**ked, because I can't fathom explaining myself to somebody who can't believe I'd be interested in them, and they're going, 'But you're John Mayer!' So I'm going backwards to move forward. I'm too freaked out to meet anybody else."
So maybe it doesn't come as a shock that John has resorted to a new level of self-gratification. "I am the new generation of masturbator," he explains. "I've seen it all. Before I make coffee, I've seen more butt holes than a proctologist does in a week... I have masturbated myself out of serious problems in my life. The phone doesn't pick up because I'm masturbating. And I have excused myself at the oddest times so as to not make mistakes. If Tiger Woods only knew when to jerk off. It has a true market value, like gold bullion."
To clarify, John says the underlying reason for his mass masturbation isn't necessarily to please some carnal urge, but "because I want to take a brain bath. It's like a hot whirlpool for my brain, in a brain space that is 100 percent agreeable with itself."
Let's just hope he's alone with the curtains drawn while he's taking these brain baths.
See more of the interview at RollingStone.com