NEWS
John Mayer Hides From Ashlee Simpson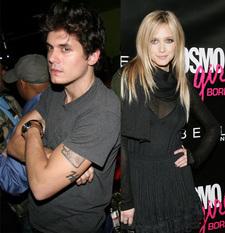 It appears that Manhattan nightclub Stereo isn't quite big enough for the likes of both John Mayer and pop star Ashlee Simpson, the little sis of John's recent ex, Jessica Simpson.
Last week, Ashlee, 23, made the scene at Stereo's celeb-filled two-year anniversary party, where her boyfriend, Fall Out Boy's Pete Wentz, was playing guest DJ for the occasion. Elsewhere in the Big Apple that evening, soft-rocker John, who had been whooping it up at Alicia Keys' record release party, was on his way to join the fun at Stereo.
Article continues below advertisement
But sources reveal to OK! that once the songwriter, who fancies himself a comedian and who recently joked about crossing the picket lines of the ongoing writers' strike, received word that Ashlee was at the club, the 30-year-old dude opted to avoid her, biding his time at hot spot Goldbar for about 15 minutes until a friend texted him with the all-clear that Ashlee had exited the party.
When contacted by OK!, John's rep declined to comment.