NEWS
John Mayer: I'd Be Pretty Good at Proposing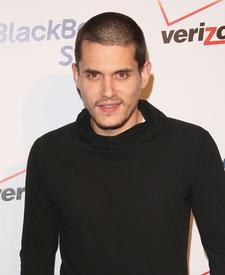 Only hours after Jennifer Aniston confirmed on national TV that she and John Mayer are still an item, he was doing some talking about romance himself on the red carpet of the Keep a Child Alive event in NYC.
When asked about his love life, the always impish singer joked, "I have not been very lucky. I've had a terrible life," a tongue-in-cheek reference to Jen's new Vogue interview where she defends herself against the put-upon heartbroken victim image she's often portrayed as in the press.
Article continues below advertisement
John then turned the tables on the female reporter, asking questions about her love life. "How long have you been married for?" he inquired of the reporter, who replied that she'd just said "I do" in May.
This exchange opened the door for her to ask John if he had any tips on how to propose properly. A thoughtful — and very humble — Mayer replied, "I think I'd be pretty good at that. I'd figure that out," and without saying too much, he added, "I'd get creative."
CLICK HERE for OK!'s Ultimate Jennifer Aniston gallery!
When asked if he wants to start a family someday, John replied, "Of course. I don't know how anyone would stand in front of you and say no. If they said no, you'd know they were covering for something."
The singer/songwriter explained to OK! that it's a challenge to still write personal songs when you personal life makes headlines.
"You just have to be a better writer. You just have to write better so you can take your experiences and process them in a way that people can relate to without going, 'Oh, he's singing about so and so. I don't feel like he's connecting with me. I feel like he's reminding me of what I already know about him.'"
Article continues below advertisement
Adds John, "I sort of feel in the last couple of years... I've been very sort of defensive — what not to say, how not to say it, where not to go, how to keep people away. That's sort of the exact opposite of making music. The refinement proccess is a little harder. It's also difficult to write songs about love lost and love found. I believe in my ability as a writer. I think it might take a little longer."