NEWS
John Mayer & Jennifer Aniston Have "Sleepovers"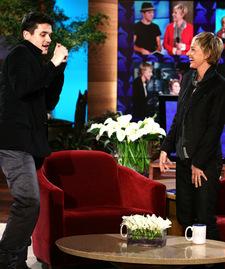 If there were any doubts whether or not John Mayer and Jennifer Aniston are still together, the singer's admission of the couple having "sleepovers" should quiet the critics.
The topic of all-night visits came up during a taping of The Ellen DeGeneres Show, airing on Feb. 9, while John was describing Jen's new house and its special light technology.
"There is no normal thing in the Aniston house," he jokes. "You won't find a light switch."
Article continues below advertisement
He goes on to lament the loss of normal light switches, saying, "I just want a switch that glows orange. Just give me a switch that glows orange and I can swing my arm up and turn on the light."
Ellen took that opportunity to get some info on John's personal life, asking, "Hey, when you said in the middle of the night... Do you sleep over?"
"Yeah, there are sleepovers, yeah," John replies.
"You have sleepovers, that's cute," Ellen jokes back.
"Yes, there are. There are sleepovers," John confirms once more.
So wait... do they have sleepovers?