NEWS
John Mayer Serves Up Some Short Shorts Down Under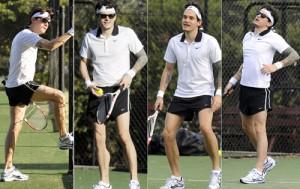 Who wears short shorts? John Mayer served up quite a sight today as he enjoyed a game of tennis in Sydney, Australia. Clad in a 1980's-inspire, full Nike outfit, the singer/songwriter looked relaxed as he knocked some balls around Centennial Park. John is currently touring Down Under.
The crooner has kept pretty tight-lipped yesterday after his highly-criticized Playboy interview.
Article continues below advertisement
He has also taken a step back from Twitter, not Tweeting as avidly as he was known to do.
John recently wrote an article on his blog One Forty Plus about being "over Twitter."
"When the topic of Twitter came up, I explained my waning interest in it being part of my daily life. By no means do I think it's over as a medium altogether, but I do think that the days of 'Twitter: The Breakthrough' have passed, as has been and will continue to be the case for every online social network," he wrote. "It's reached it's cruising altitude, so to speak. Patterns and templates are emerging. The Twitter-bred syntax isn't really doing it for me anymore."
Looks like John is turning over a new leaf.