NEWS
John Mayer is Taylor Swift's No. 1 Fan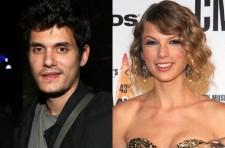 Taylor Swift might only be 19, but she's already collected a legion of fans, including superstar singer/musician John Mayer. "There's something about Taylor that she would have been a star in any decade," John tells Access Hollywood. "Taylor's like this fresh voice."
John's so impressed with Taylor musically, he's happy to have her share credit for the song "Half of My Heart" on his new album Battle Studies.
Article continues below advertisement
"I don't normally make records to share tracks with people. I've never had somebody's name underneath the title of my song and I couldn't be happier that she's on there," John admits. "I consider her a friend. I think she's a really remarkable person and it'll be nice to have her name on the record for the rest of my life."
There are a few things Taylor needs to learn, however —namely, that she's hugely talented and stop freaking out long enough to recognize that fact.
"Taylor Swift is the last person to know she's Taylor Swift, which I think is totally sweet," John says of CMA's Entertainer of the Year. "It's almost like Taylor Swift is like a character in a movie about a small town girl who has her dreams come true and what any small time girl would do when their dreams come true is to freak out.
"I still like it that she freaks out, but pretty soon she's gonna have to stop because it's sort of like, 'You're that good. You're that good. You might have to go to therapy and have someone else tell you you're that good,'" John smiled. "So it's great to have someone who's hugely talented and still is able to receive the pleasure in all moments."