NEWS
John Mayer's Kissing Quest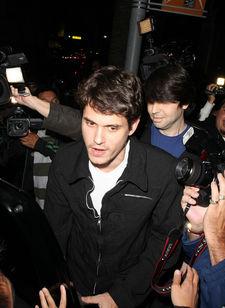 John Mayer never ceases to entertain, even when he puts down the guitar and goes out on the town in L.A. The jokester headed out with his brother and pals, having dinner at Katsuya before hitting up MyHouse.
But just partying with the boys wasn't enough for John. He wanted his fans and Twitter followers to be in on the fun too, as he Tweeted the night away. Even as he was getting his groove on to MIA's "Paper Planes" and Montell Jordan's "This is How We Do It," John was simultaneously updating his Twitter.
Article continues below advertisement
"Trying to procure as many red lipstick kisses on my face as I can. Trying to gag photogs and make a jokOH MY GOD MONTEL JORDAN JUST CAME ON," the ecstatic party boy wrote.
Always the charmer, John decided to get as many girls as he could to kiss him to fool the paparazzi into thinking he had a new girlfriend... or girlfriends!
"Okay, check it. Just spent the last hour getting the reddest lipstick on me for a gag. When you see the pics of me leaving the club covered in kisses it's all a gag. Have fun. Smile at the things that worry you. Play good music. Laugh. Live your life!!" he tweeted.
To finish off his night, John danced his way out the front door singing "Man in the Mirror," complete with red kisses all over his face. Mission complete!
PICS FROM JOHN'S NIGHT OUT: