NEWS
John Not Dreaming About Jen?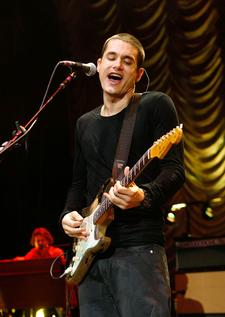 Sporting a close-cropped buzz cut at a concert in Mountain View, Calif., this weekend, John Mayer was in good spirits, even alluding to, perhaps, someone other than his sweetheart, Jennifer Aniston, to fans in between songs.
"I sorta made out with some girl in my dreams," the singer,30, told the audience, before leading into the song "Dreaming with a Broken Heart."
Eyewitnesses at the show tell OK! that there was no sight of the Friends star. Wonder what she had to say about John's dream!
Article continues below advertisement
So what's behind John's new 'do? The rocker told reporters last month in NYC that he was working on a 1970s feathered-hair look. Hmmm, it looks like he gave that up for a more traditional, military style coif. Could it be an homage to the troops?