NEWS
John Stamos: "I was Drunk"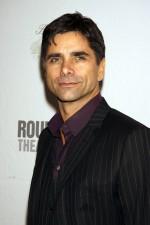 John Stamos has come clean about his outrageous appearance on an Australian talk show in 2007: He was totally trashed.
The actor was Down Under to promote ER when he slurred his way through a morning TV show, wandering around the set, reading host Kerri-Anne Kennerley's lines from the teleprompter and making lewd gestures in front of her.
Although he apologized for his behavior at the time, blaming it on jet lag and sleeping pills, John, 46, confesses to The Advocate magazine, "I'll be honest: When I went on that morning show, I was drunk.
Article continues below advertisement
"Yes, I was on sleeping pills and I was jet-lagged, but I was also just plastered. And I never said I wasn't, but that whole Warner Bros. publicity machine got involved and said, 'Just say he was jet-lagged.'
"I said, 'No, tell 'em the truth! I was f****** drunk in Australia. Big deal.'"
Currently starring on Broadway in a revival of Bye Bye Birdie with Gina Gershon, the actor talks about his youthful looks.
"It's funny, because I haven't had one ounce of Botox or any of that. I finally got gray hairs in the past couple years, and I wore it on ER, but they made me cover it up in this show.
"I don't want to be one of those weird-looking guys who gets old but stays looking young."