NEWS
John Travolta On Singing With Miley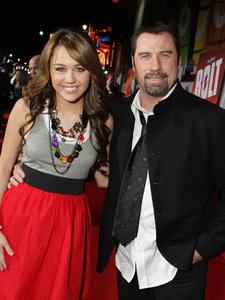 No matter that their dad is a movie legend who's starred in classics like Grease and Pulp Fiction, John Travolta's kids are most impressed that theirfather got to hang out with Hannah Montana star Miley Cyrus. The duo star in animated film Bolt andgot together to sing a duet of "I Thought I Lost You" for the music video.
"I was so popular when I got home after they had gotten the news that I sang with Miley," he says. "Doing a movie with her was big enough news. But the singing and dancing with her was a whole other thing. So I'm finally getting some attention from my kids."
Article continues below advertisement
CLICK HERE for OK!'s Mega Miley gallery!
Due to the way animated pictures are made, however, John and Miley didn't meet up face-to-face right away.
"We finally sang together when we did the video for the movie," he explains, "But before that we had to sing our parts separately and we never saw each other. I guess it was like Barbara Streisand singing with Frank Sinatra on Duets. But we finally did perform together and we had a lot of fun."