NEWS
John Travolta Will Reunite with 'Welcome Back, Kotter'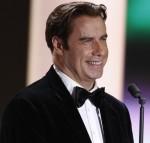 Welcome, back to an oldie but goodie. As in Welcome Back, Kotter! The kitschy show from the '70s will receive the 35th Anniversary Awards at the 2011 TV Land Awards when John Travolta reunies with his fellow cast! The show will air on TV Land on April 17.
OK! GALLERY: JOHN TRAVOLTA SHOWS OFF HIS BALD SPOT?; TURNS 57
The classic sitcom centered around compassionate teacher who returned to an inner city high school to teach remedial social studies to "sweathogs." Lawrence Hilton-Jacobs (Freddie "Boom Boom" Washington), Ron Palillo (Arnold Horshack), Marcia Strassman (Mr. Kotter's wife, Julie) and John (a.k.a. Vinnie Barbarino) are set to appear.
Article continues below advertisement