NEWS
Johnny Depp Dons Blue PJs For 'The Tourist'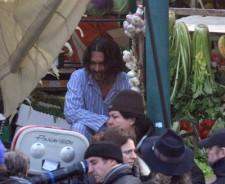 Johnny Depp looked very blue today on the set of his upcoming film The Tourist — not because he was sad, but on account of the pajamas he was wearing while shooting the upcoming flick. Johnny collaborated with director Florian Henckel for his scenes and it looked like his silver screen leading lady, Angelina Jolie, had the day off from filming.
OK! EXCLUSIVE: JOHNNY'S JUST NOT THAT INTO ANGELINA
In the film, Angelina plays an Interpol agent who seduces a tourist, played by Johnny. The supersexy co-stars sure seem to have chemistry on set, but maintain a professional relationship.
Article continues below advertisement
Brad Pitt is close to set while Angelina films, keeping the Brangie brood together!