NEWS
Johnny Depp & Keith Richards Catch Up Across the Pond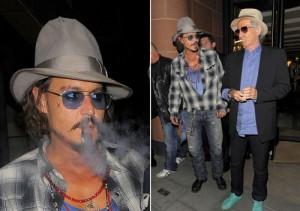 The two coolest people on Earth decided to dine together (and dress alike) while in London. Johnny Depp and Keith Richards emerged from London's C restaurant for a smoke break wearing matching fedoras and sunglasses Wednesday night. Johnny is currently filming the fourth Pirates of the Caribbean movie and from the looks of it, Captain Jack Sparrow didn't bothered to remove all of his stage makeup.
Johnny sported a cross scar on his cheek, a graze on his chin and a gash above his right eye, as he dined with his old pal.
Article continues below advertisement
The A-list actor based Captain Jack's accent and character on the 66-year-old Rolling Stone, who played his character's dad in Pirates Of The Caribbean: At World's End.