NEWS
Johnny Depp Makes Most Stylish 'GQ' Men in the World List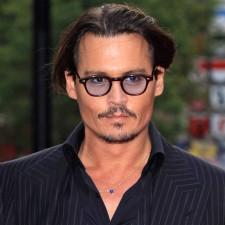 Johnny Depp has been named one of GQ's 25 Most Stylish Men in the World for his one-of-a-kind style. He may be only one of 25, but definitely he's one of the best!
GQ picked their favorites for the Most Stylish Men of 2010 in the February issue and Johnny took the cake for being "At the Top of His Game" — he even appears stylish shirtless on the cover!
"Johnny Depp's a unicorn—a really glamorous, one-of-a-kind eccentric," GQ says. "Usually guys try to fit in; they don't want to get criticized. At any red-carpet event, there are going to be guys who look spiffy in their Prada or Armani tuxedos, but you wait for Johnny Depp, because he's always going to look super-groovy and unconventional."
Article continues below advertisement
"He wears great man jewelry," GQ adds. "He doesn't shy away from color. He's always peeking through his amazing hair. It doesn't matter if Johnny Depp's lying in a ditch — he's always going to look incredible."