NEWS
Johnny Depp One of the Decade's Top Entertainers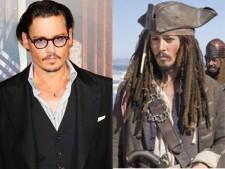 Johnny Depp is a true character actor. From his more recent roles as Jack Sparrow and Sweeney Todd to his 1990 performance in Edward Scissorhands, Johnny has captivated audiences everywhere. In the past decade, he has become a surefire box-office draw in his role as Jack Sparrow in Pirates of the Caribbean. As a result, Johnny has been named as one of Entertainment Weekly's Top 15 Entertainers of the Decade.
Article continues below advertisement
No one has been more surprised by the success of Pirates as Johnny himself.
"All I can say is for a guy like me who's been dangling in this business for the last 20 years, to finally have something hit, it's unexpected and very touching," he told EW back in 2003.
Now, in EW's Best of the Decade issue, Johnny shares a list of his pop-culture essentials, including movies, books, and music. What are his top two favorite albums? The Rolling Stones, of course.
"Almost impossible to pick one LP, even more difficult to name just two, as they are all glorious, " Johnny says of Sticky Fingers and Tattoo You. "But these efforts have successfully soundtracked many a riotous late night out, slurping up the city, in another life."
As for the future of his movie carer, Johnny, 46, is in talks to replace Terminator Salvation hunk Sam Worthington, who has pulled out of the male lead role opposite Angelina Jolie in The Tourist.
The mom-of-six signed on to replace Charlize Theron who was originally attached to the project.
The movie, which is a remake of a 2005 French spy thriller called Anthony Zimmer, involves a female Interpol agent who uses an American tourist visiting France as bait for a wanted criminal who also happens to be her former lover.