NEWS
Johnny Depp Wins Big at MTV Movie Awards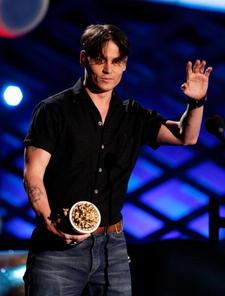 In a night where the MTV voters seemed to try their best to be as diverse as possible in their annual Movie Award winners, only one star of the silver screen appeared to be a unanimous fan favorite — Johnny Depp, who managed to win honors in both the Best Comedic Performance and the Best Villain categories.
"I'm not a very funny person," the actor, who could barely be heard over the screams of the audience, claimed while accepting his Best Comedic Performance award for his now-iconic role of Captain Jack Sparrow in last summer's mega-hit Pirates of the Caribbean: At World's End. "Not even remotely funny."
Article continues below advertisement
Looking dashingly handsome and clean-cut, Depp, who turns 45 on June 9, was called upon later in the evening to make a repeat trip to the stage when his title role in Sweeney Todd: The Demon Barber of Fleet Street was awarded in the Best Villain category.
Oddly enough, though Johnny won both of these categories, it was Will Smith who voters rewarded with the Best Male Performance award for his role in I Am Legend. Joined onstage by his son Jaden, Will remembered having been at the 1988 MTV Movie Awards — except... the annual ceremony didn't begin until 1992.
For Juno star Ellen Page, who walked away from both the Oscars and Golden Globes empty-handed, she appeared to be somewhat consoled by her win in the Best Female Performance category.
Zac Efron, who was in the audience with on-off girlfriend Vanessa Hudgens, managed to thank everyone but his gal-pal during his acceptance speech for Best Breakthrough Performance in Hairspray.
Tom Cruise got down on one knee to present the Generation Award to goofball Adam Sandler, who then launched into a self-aggrandizing version of "Nobody Does It Better," after which he announced, "This is the most arrogant thing I've ever done."
Of course, what are the MTV Movie Awards without the oddball categories that give the ceremony its unique flavor? There was Best Kiss, presented to Step Up 2: The Streets' Briana Evigan and Robert Hoffman by an almost naked Rainn Wilson (thank God for strategically placed teddy bears!) and Megan Fox. And Best Fight, awarded to Never Back Down's Sean Faris and Cam Gigandet.
And one of the evening's biggest controversies came during the presentation of the Best Summer Movie So Far category, as Seth Rogen and James Franco whipped out a "pretend" baggie of marijuana and smoked a "fake" joint — "This certainly isn't good sh--," Franco told the audience after taking a puff — before presenting the award to Iron Man. However, since the cameras pulled as far away as possible from the podium during this presentation, it was hard to tell exactly what was going on onstage.