NEWS
Johnny Depp's Ex Vanessa Paradis Opens Up About the Split and Their Two Kids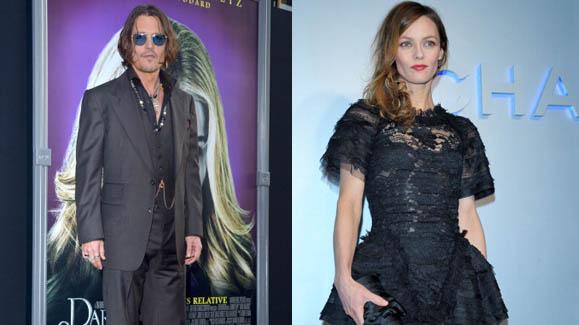 While Vanessa Paradis has been in the tabloids much more since news of her split from Johnny Depp broke, the French born singer, actress, model, is determined to keep her two kids, Lily-Rose, 13, and son Jack, 10 out of the spotlight.
"I don't sell my private life, and nobody knows the truth or has done a proper journalist's work on that situation," she tells the Daily Beast.. "Nowadays, people speculate, but nobody knows! I have my children to protect."There are children involved, so it's really no one's business but the family."
Article continues below advertisement
OK! GALLERY: EMMA STONE, JOHNNY DEPP, JOSH HUTCHERSON AND KRISTEN STEWART WIN AT 2012 MTV MOVIE AWARDS
Although Johnny Depp has been publicly enjoying single life more with rumored fling Amber Heard, Vanessa has been more low key and is focusing on work and her children.
"What changes with motherhood is that you're not No. 1 in your life anymore. Suddenly, someone counts more than yourself," she says. "It makes you a better person, less selfish and more aware of others. The biggest love of your life is born, and it's the one love that never fades, but keeps growing stronger."
Vanessa can be seen next in Café de Flore, where she plays a single mom who has an unhealthy attachment to her son with Down syndrome and freaks out when he falls for a girl at school who also has Downs.
Being a mom in real life helped her prepare for the role.
OK! GALLERY: JOHNNY DEPP BRINGS HIS DAPPER SELF TO THE PREMIERE OF DARK SHADOWS IN HOLLYWOOD
"All parents are overprotective," says Vanessa. "When somebody hurts your child, you become a war machine. You couldn't kill, but you want to."
Article continues below advertisement
She adds, "We have the gut feeling, you know? You love and you fear for them, and it's all here points to her belly. I understand that. But Jacqueline (her character) is in a very different situation because she gave birth to a child with Down syndrome, and back then, the life expectancy of a child with Down syndrome was 25 years, so this woman is completely driven by love and fear, and she forgets who she is as a human being."