NEWS
JoJo travels to 'Cyber' Space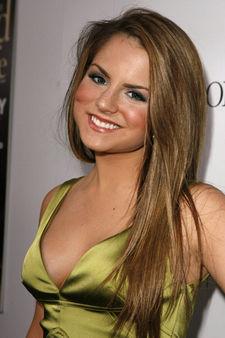 From flying around the world for concerts on all parts of the globe, to appearing on the silver screen in box-office hits like Aquamarine and RV, the last couple years have been an unbelievable whirlwind for teen sensation .
The "Too Little Too Late" singer may not be having the normal teen experience of attending high school every day, but 16-year-old tells OK!, "The tradeoff is amazing. I get to do what I love and get to travel and still get to get an education."
Article continues below advertisement
The pop star can currently be seen playing herself in the Acuvue's Hampton High at hamptonhighrevealed.com. "It's the way of the future," JoJo says of the webisode. "They have presidential debates on YouTube now, it's crazy."
One thing that isn't crazy is just how grounded she is, and she thanks her mom in part for it. "I can't say that as a teenage girl, I am able to make the smartest decisions all the time, but having her kind of remind me and set rules for me helps," she says of her manager mom, Diana. "I try to represent myself in the right way. I really have no desire to go party at clubs, go out without underwear on. I'm only 16, but it doesn't mean I can't get into these places. I have no desire to do these things that will not get me to where I want to go."
She also owes her talent to her mom. "She has a beautiful voice so I kind of mimicked her when I was younger." Singing since the age of two, she got her start in this industry by appearing on the show Kids Say the Darndest Things and loved the feeling of being on stage. When asked who her favorite singer is, JoJo lit up and without more than a second of thought, "Beyoncé. She's my favorite. I look up to her."
As for her own touring schedule with her cute band members, expect an album next year and there are some film projects in the works. In the meantime, this self-professed "dweeb," will be back in New York City for Fashion Week, walking in the MetLife presents Snoopy fashion show.
By: Alisandra Puliti