NEWS
JoJo Turned Down Hannah Montana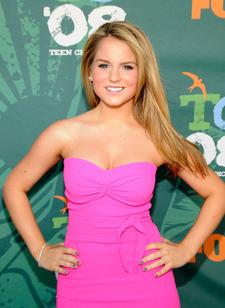 They say hind sight is 20/20...or is it?
R&B pop singer Joanna "JoJo" Lavesque reveals she was originally offered the role of Hannah Montana, but she turned it down. Given that the role eventually went to the now uber-famous Miley Cyrus, does the singer have any regrets about her decision?
"No regrets. No regrets at all," JoJo tells Extra. "Yeah, they Disney offered me the role...But it's not really what I see for myself."
Article continues below advertisement
In 2004, JoJo rose to fame with her platinum-certified self titled album and has since starred in several TV and big screen projects. She currently stars in Lifetime's True Confessions of a Hollywood Starlet in which she plays a hard-partying "It" girl who's overdose ends up on Extra.
But the 17-year-old is eager to emphasize the differences between her character and her true self, saying "I still live in New England. I'm an east coast girl 'til I die and I still live with my mom."
For the complete interview, tune in to Extra tonight!