NEWS
Jon Bon Jovi Opens Restaurant & Says "I'm the Dishwasher for Real"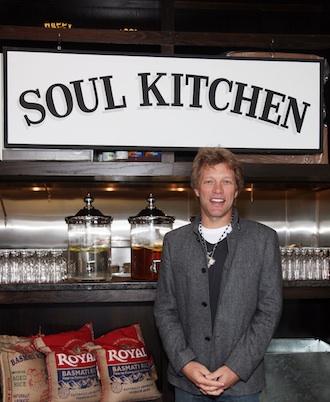 Rocker Jon Bon Jovi can now add two new titles to his illustrious career: Philanthropist and Restauranteur! The hometown Jersey boy opened The Soul Kitchen, a "pay-what-you-can" restaurant in a former auto body shop near the Red Bank train station in central New Jersey. It's part of the Jon Bon Jovi Soul Foundation which has already built 260 homes for low-income residents.
Before the restaurant's grand opening yesterday, Jon said, "With the economic downturn, one of the things I noticed was that disposable income was one of the first things that went. Dining out, the family going out to a restaurant, mom not having to cook, dad not having to clean up — a lot of memories were made around restaurant tables."
Article continues below advertisement
Feeling inspired to open the restaurant, according to Entertainment Weekly, he noted, "When I learned that one in six people in this country goes to bed hungry, I thought this was the next phase of the Foundation's work." Actually, back in the day (and by that we mean a few years ago), both Jon and his wife Dorothea started giving back to the community by helping out at a local food pantry at a nearby church. Then, they moved their efforts to the Lunch Break program, a.k.a. "The Soul Kitchen," which feeds about 80 to 120 people on a daily basis.
They brought the name along for the ride when they converted the former auto body shop into their latest endeavor. It took an entire year and $250,000 to open, but patrons can enjoy cornmeal crusted catfish with red beans and rice or fancy grilled salmon with soul seasonings, sweet potato mash and sauteed greens grown in the vegetable garden outside the restaurant's doors!
There's one caveat to the restaurant. You can't eat for free! Jon explained there aren't prices on the menu so if you want to leave money in an envelope on the table, that's great. He explained, "If you can't afford to eat, you can bus tables, you can wait tables, you can work in the kitchen as a dishwasher or sous chef. If you say to me, 'I'm not a people person,' I say, 'That's not a problem. We'll take you back to Lunch Break to volunteer with those people. If you don't want to volunteer with that, we'll take you to the Food Bank."
After volunteering at one of those places, a person will be given a certificate good for a meal at The Soul Kitchen. "If you come in and say, 'I'm hungry,' we'll feed you," Jon said. "But we're going to need you to do something. It's very important to what we're trying to achieve."
Although he's busy writing songs for the band's next album due out next year, the rocker plans to stay active with the restaurant. "Last Friday, I was at the White House, serving on the Council for Community Solutions, got on a train, changed in the bathroom and got here in time to wash dishes Friday night," he said. "I'm the dishwasher, for real. I can't cook a lick."