NEWS
Jon Bon Jovi Slams Steve Jobs for "Killing the Music Business"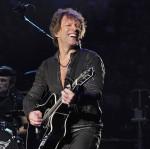 If Jon Bon Jovi had his way, the rocker would revert to something pretty retro like cranking up the volume on your headset and making a decision to buy an album by listening to music, holding the jacket cover and experiencing the magic. Well, those days are gone and he's not too happy about it. In fact, he blames Apple co-founder Steve Jobs for single-handedly killing the music business. Find out more after the jump!
Article continues below advertisement
OK! GALLERY: BON JOVI ON TODAY — "YOU GIVE LOVE A BAD NAME"
In The Sunday Times Magazine (via Huffington Post), Jon laments that kids growing up now will never have the same experience as he did as a child. He explains, "Kids today have missed the whole experience of putting the headphones on, turning it up to 10, holding the jacket, closing their eyes and getting lost in an album; and the beauty of taking your allowance money and making a decision based on the jacket, not knowing what the record sounded like, and looking at a couple of still pictures and imagining it."
OK! NEWS: JON BON JOVI TO STAR IN VALENTINE'S DAY SEQUEL NEW YEAR'S EVE
Thanks to iTune downloads and iPods, Jon says the "magical, magical time" is now lost. He points out that in the next generation people will say, "'What happened?" Then he adds a zinger: "Steve Jobs is personally responsible for killing the music business."
Although some rockers may beg to differ since the iTune Store sold its 10th billionth song download last month, thereby generating revenue and fans, most downloads come in single song form and not the album format. Although his band has released special editions of albums with bonus songs for iTunes, this may be perhaps chalked up to keep up with the changing times.
What do you think? Agree or disagree with Jon and why?