NEWS
Jon Cryer Cracks Charlie Sheen; Says He is "Recording an Album"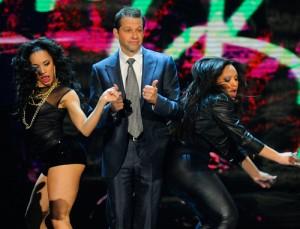 Jon Cryer is still keeping busy despite the current upheaval of his acting job on Two and a Half Men, which he won an Emmy for his role at Alan Harper. As his former co-star Charlie Sheen prepares for his international comedy tour, Jon shared at The Comedy Awards this weekend that he is busy "recording an album" and took some time to throw in a couple of cracks directed at Charlie.
One of the most exciting moments during The Comedy Awards was when emcee Andy Richter announced there was a surprise guest in town. Jon ran through the audience and hopped on stage to take a couple of cracks at Charlie Sheen, his once pal who famously called him a "troll."
Article continues below advertisement
"I think it's important for an actor to keep out of the public eye," Jon quipped, followed by, "Luckily a lot of talented people are working on shows that are still in production."
He also told the crowd he was "recording an album" and broke into a hip-hop routine with scantily clad back up dancers featuring rappers Pharoahe Monch and Buckshot.