NEWS
Jon Gosselin Claims He "Took a Lot of Abuse" from Kate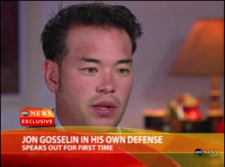 Now that Kate Gosselin has gone on national TV to discuss her very public split from hubby Jon Gosselin, it was time for the reality TV super-stud to get his say on today's Good Morning America. And the always-charming Jon did not disappoint.
"She'll call me like, almost like a lame fish. Like I wasn't going anywhere," Mr. Personality told Good Morning America's Chris Cuomo.
Seems like the main problem was that Jon felt left out of all the fun Kate was having being famous.
Article continues below advertisement
"Well, excuse me, I'm taking care of the kids. She's on book tours, she's doing all these things. You know, she's gone a week. You know, comes back. Packs up and leaves again," he explained. "I'm standing there like, 'Oh, OK. Your mom's gone again.'"
Adds Jon, "I took a lot of abuse from her. I was put down."
Watch the full Jon Gosselin interview on Primetime: Family Secrets, Tues. Sept. 8 at 10 p.m. ET. on ABC.