NEWS
Jon Gosselin Demands $12,000 an Hour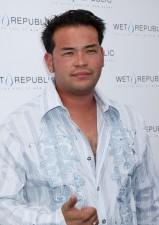 All the attention that Jon Gosselin is getting from his messy and far-too-public divorce has gone to this manchild's head. The dad-of-eight is now demanding more than $10,000 an hour for public appearances.
The host of the Tampa-based MJ Morning Show approached Jon, 32, to appear on the Florida radio station and co-host the show one morning.
His inducements included two first class round trip plane tickets, limo service and a "first class" hotel room — but that wasn't enough for the cubic zirconia-loving dad.
Article continues below advertisement
Jon's rep requested an "appearance fee ... in the $10,000 to $12,000 range."
He justified the amount by saying, "Jon's name and appearance on your show will instantly draw press ... and will be a high point for the show."
The rep also describes Jon as "quite funny, sharp-witted and interesting."
The radio host tells TMZ he "fell out of his chair" when he read the demand.
Let's hope Michael Lohan's upcoming reality show, The Divorced Dads' Club, offers a decent paycheck.