NEWS
OK! Exclusive: Jon Gosselin Opens Up About DJing, New Girlfriend And Relationship With Kate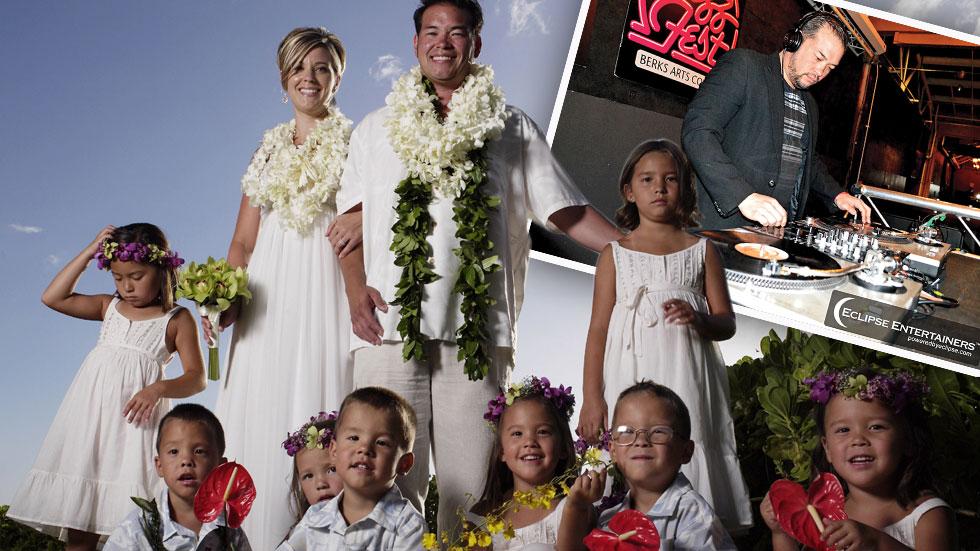 Jon Gosselin may no longer be on reality TV or married to Kate Gosselin, but the former Jon & Kate Plus 8 star is still plowing away trying to build a future for himself and his eight children.
OK! Magazine got the chance to catch up with Jon — and he opened up about his new job working as a DJ, his custody agreement with Kate, and more.
OK!: Why did you start working as a DJ?
Gosselin: "Well when I was with Liz, she DJed for three years for this company called Eclipse Entertainers and it's actually owned by John Alexander. And so I'd go along for her gigs. I had no job...So I started liking it, djing with Liz. Sometimes she'd get sick and I'd do her gig because I know how to use the equipment, not to the full extent back then. I was like a giant juke box and it was fun and I got to hang out with my friends. But then Liz left and we broke up on a good note. She had to be with her kids and I had to be with mine and she moved out of the state. It's kind of hard to have a long distance relationship when all my kids are here. So Johnny called me and was like, 'Do you want keep Liz's gigs?' I was like, 'Yeah. I would really like to do that because all the bars, I'm friends with them and I really didn't want to let them down in the entertainment.' So then when I started djing and keeping Liz's 4-5 gigs a week, it was kind of cool. I started really liking it. I was super interested in mixing music. I was hanging out with my friend DJ Koolie Kirk. He's been mixing for 30 years. I met him when I was 15 years old, so way back in the day. I used to go Vinyl shopping with him. So what a great person to learn from. So then every day I took a music lesson from him using Vinyl and I used a digital system, so then we'd just got back and forth and start jam sessions, which is really cool. But I've started to really perfect my skill, but not to the utmost degree because I can't. But I think people book me out of curiousity and then we just end up having an amazing time."
Article continues below advertisement
OK!: What's your ultimate goal with this djing? Do you want to travel around the world?
Gosselin: "Yeah. I got booked at a casino, so we're waiting for the paperwork to come. It's in the country. It's a huge casino. I got booked in there for a dj appearance so I have to break for an hour to an hour and a half. But I'm still kind of nervous because it's huge. But I know that with my ability now, I'll be able to entertain the crowd and keep it going, but not to the perfection level of these amazing other djs. I give props to them because it's really hard. It's not just like I'm going to play my top 40 and just play what's on the radio."
OK!: You want to keep doing these things or manage the djs?
Gosselin: "Well, what I've been doing is working with Johnny at Eclipse Entertainment. Now I'm helping John with sales and marketing and merging my brand. It creates a residual income for me. So even if I'm not physically working at the gig, I'm still making money on the back end marketing wise with other djs."
OK!: Outside of djing, are you doing anything else to make money?
Article continues below advertisement
Gosselin: "It's pretty much my primary job right now. I'm contemplating running for office."
OK!: What office are you thinking about running for?
Gosselin: "Like political office, so I have a meeting but I'm still hesitant on that because I'm more intimidated, even though politics is kind of like entertainment, it's just a different kind of world."
OK!: What position are you looking at doing?
Gosselin: "State representative. But I haven't made a formal announcement yet, but I have to soon. Actually I have to make an official announcement by January of next year because they are two year terms. There's a lot of stuff I have to put in place."
OK!: Are you still living in Reading, PA?
Gosselin: "Yeah."
OK!: What is your living situation?
Gosselin: "In like a duplex. It's like a house that is split. But it's my hometown. I can walk everywhere if I want. It's nice."
OK!: How are your kids doing?
Gosselin: "They're doing good. I had them yesterday. They're doing pretty well."
OK!: How often do you see them?
Gosselin: "I have them one dinner night a week for like 4.5-5 hours and then I have them Friday, Saturday, Sunday one day and that's a flex schedule now, because Kate knows I work weekends. Even though it's like Kate and our controversy and all that stuff, even though it's like… in the press it seems like tumultuous. But it's actually worked out well."
Article continues below advertisement
OK!: What's your relationship with Kate like now?
Gosselin: "I'm sorry, but it's just I feel like it's like business. We kind of understand. I mean I think she tends to throw me under the bus a little bit and try to put herself up and makes herself look bad instead of joining forces and saying, 'Hey, we're doing the best that we can.'"
OK!: How do you feel about them all being back on TV?
Gosselin: "I had this conversation before and even though I didn't sign for them to go back on television, and they didn't even ask, which is totally illegal. Now I just laugh about it because I have five girls that are just super independent. If they don't want to film, I think they make it known."
OK!: Do you guys talk often?
Gosselin: "No."
OK!: Just when it's about the kids?
Gosselin: "Yeah even that's through text message."
OK!: Are you dating anyone right now?
Gosselin: "I am dating someone but I don't know if she wants to be public because she has a really important job and she is really well established and she is older than me. So it's like a different world maybe for her."
OK!: How long have you guys been dating?
Article continues below advertisement
Gosselin: "A couple of months. 2 months. 3 months."
OK!: Is it serious and are you in love?
Gosselin: "Yeah, I think it's pretty serious. Super stable. Yeah, I'm in love. Yeah definitely. And it's someone from my childhood. Like she is older than me. Her sister used to babysit me so our families are pretty pretty close."
OK!: Are you guys living together yet or not?
Gosselin: "Yeah, I spend a lot of time at her place."
OK!: If you had one regret about doing reality television, what would it be?
Gosselin: "A lot of the decisions I made after the divorce were emotional decisions instead of smarter business decisions which kind of ruin my reputation for a while. And then I kind of had to fight to get them back. So here we are still doing interviews 5-6 years later. I've been willing to just accept the fact that I guess I am famous or I'm not or whatever, but people still write about me but whatever. It's become part of your business. It's life."